Now that the obligatory warning is out of the way, I'll do a quick (read: very long) recap of what has happened in this season in terms of plot. The first episode, Chapter 27, begins with a character that many, myself included, thought was out of the game permanently : DOUG! Yep, Doug returns from his grave in the woods this season, and there is quite a long arc about his return to Frank's side. Doug's encounter with Rachel in the woods at the end of Season 2 left him with serious brain injury that hobbles his movement and his political involvement for several months. After coming out of the hospital, Doug quickly finds that life is going to be difficult for a while, and still has moments of intense pain. He tries to go back to working for Frank, but Frank tells him to rest up, and that he will only be allowed back when he has fully healed. Doug continues to try and get involved again with Frank again, but he continues to be pushed off, and feels increasingly isolated. This leads to him losing his sobriety, and even to working for Frank's political enemy, Heather Dunbar, who is running against Frank for the Democratic nomination for 2016. By the end of the season however, he is accepted back into Frank's inner circles as Chief of Staff, and has finally killed Rachel.
Before Doug was accepted back into that position, Remy Danton served that role. He also experienced an interesting story arc, along with Jackie Sharp. Frank, who is running for election in 2016, had Jackie run to further split the vote in his favor. He would have her attack relentlessly, and then later quit the race for Democratic nomination, in return for being on the ticket with Frank for the actual election. However, after being pressured by Frank to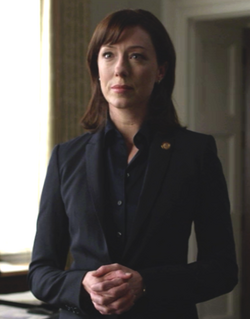 argue about private school and public education during an Iowa Caucus debate and then being burned by Frank who brings her family into the debate, she decides to leave the race and vocally raises her support for Dunbar. Remy, who still has feelings for Jackie, and has advocated for her to Frank as well as for better treatment of staff in general, approves of this move and decides to quit working for Frank as well. Remy decides after his long history in politics and from indignity suffered from Frank to quit politics, and move on with his life. Though he still has feelings for Sharp, they both are committed and cannot continue correspondence, and their relationship ends in passion, though with hints that it's their final meeting.
Gavin has somewhat an interesting story, which is intertwined with Doug. Doug enlists him to help find Rachel, and to end her for once and for all. Gavin agrees, on the condition that he is allowed to leave the U.S. and all his charges are dropped. After several months of snooping, he tells Doug that Rachel died, after which he leaves the country. Later however, it turns out that he lied, and is using the information to get his other friends out of jail. Doug hunts him down and gets the real information out of him, beating him until he confesses.
There are a couple major new (ish) characters this season of House of Cards; among them are Heather Dunbar, Kate Baldwin, and Tom Yates.
Heather Dunbar isn't exactly new per se, as she appeared in Season 2 as a lead investigator against the previous President. However, her role in this season is definitely new. She starts out working with Frank on a military case where drone strikes resulted in civilian death and injury, and defends the actions. As it is revealed that a seat in the Supreme Court is about to open, and that the Democratic leadership in congress does not want Frank to run, but instead is considering Dunbar, Frank tries to get her to agree to the position. She seems to go along, until she suddenly announces her will to run for president,
Kate Baldwin is a journalist from the Telegraph who becomes the White House Correspondent, after the previous correspondent is thrown out by Frank and his team for comments she made. Kate throughout the season tries to get something on Frank, and repeatedly warns the world about him, though in the end she manages to accomplish little. She is in a relationship with Tom Yates, the last major new character. He is an author hired by Frank
Speaking of Claire, let's talk about her story line. She begins the season wanting to become the U.N. Ambassador from the U.S. Frank nominates her, and she goes about securing her passage into the role. However, after an accidental slip of the tongue where she calls the military irrelevant, she does not get the nomination. She ends up asking Frank to hold another separate session, at which she gets nominated. However, she has mixed feelings about having to ask Frank to do that for her. At the U.N., she faces a crisis in the Jordan Valley, where Russia is blocking U.S. troop deployment. They end up being unable to reach an immediate agreement, and publicly support a group that is protesting the Russian
Ah, who's next? That's right, FRANK! Okay, maybe Viktor Petrov should also go here, but I feel I described his story well enough when talking about Claire. Frank begins the season a few months
WOOOAAAAAAAAAAAAH. That took a while. I'm sure I missed a couple plot points, and that certain things I've written are incorrect, but that, fellow Netflix binge-watchers, is the entirety of Season 3 of House of Card's plot (at least as I remember it 72 hours after finishing the series). If I've made a mistake, or there is something you recommend I add, please, say so in the comments below. Oh, and remember to subscribe, bookmark, add me, whatever, and read my actual House of Cards analysis!